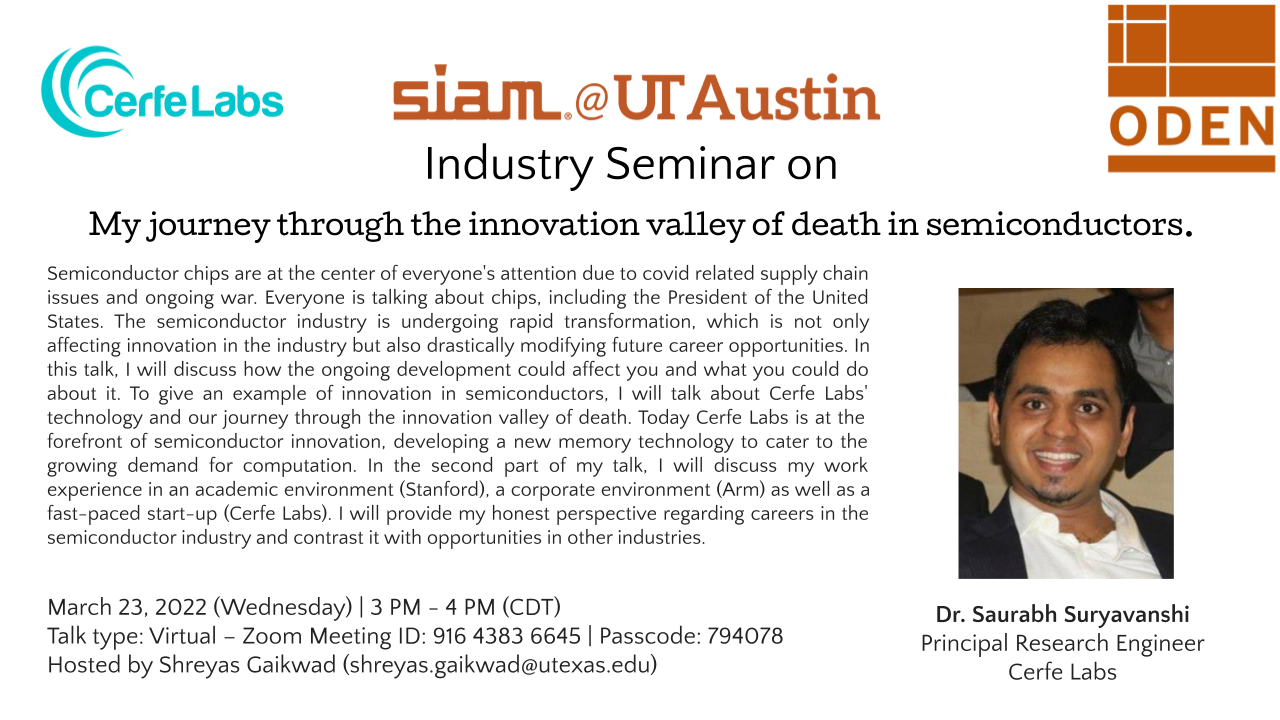 Date:  March, 23rd, 2022 (Wednesday), 3:00-4:00pm (Central Time)
Recording available here: https://www.youtube.com/watch?v=UdnSlspiBtM&t=4s
Talk type: Virtual – Zoom (link) | Meeting ID: 916 4383 6645 | Passcode: 794078
Talk Title: My journey through the innovation valley of death in semiconductors.
Talk Overview: Semiconductor chips are at the center of everyone's attention due to covid related supply chain issues and ongoing war. Everyone is talking about chips, including the President of the United States. As we speak, the semiconductor industry is undergoing rapid transformation, which is not only affecting innovation in the industry but also drastically modifying future career opportunities. In this talk, I will discuss how the ongoing development could affect you and what you could do about it. To give an example of innovation in semiconductors, I will talk about Cerfe Labs' technology and our journey through the innovation valley of death. Today Cerfe Labs is at the forefront of semiconductor innovation, developing a new memory technology to cater to the growing demand for computation. In the second part of my talk, I will discuss my work experience in an academic environment (Stanford), a corporate environment (Arm) as well as a fast-paced start-up (Cerfe Labs). I will provide my honest perspective regarding careers in the semiconductor industry and contrast it with opportunities in other industries.
Speaker Bio: Saurabh is a principal research engineer and leads the development of quantum adjacent memory at Cerfe Labs. Before Cerfe Labs, Saurabh worked in Arm Research on novel memory technologies, and this team was later spun off into Cerfe Labs. He has Ph.D. and MS from Stanford University and B. Tech. and M. Tech from IIT Bombay, all in the field of microelectronics. His Ph.D. work was at the intersection of nano-electronics, semiconductor physics, and fundamental material science. During his Ph.D. at Stanford, Saurabh has interned at Sandisk and CEA-LETI. He is extremely passionate about computing and its effects on human life.
Hosted by:
Shreyas Gaikwad (shreyas.gaikwad@utexas.edu)