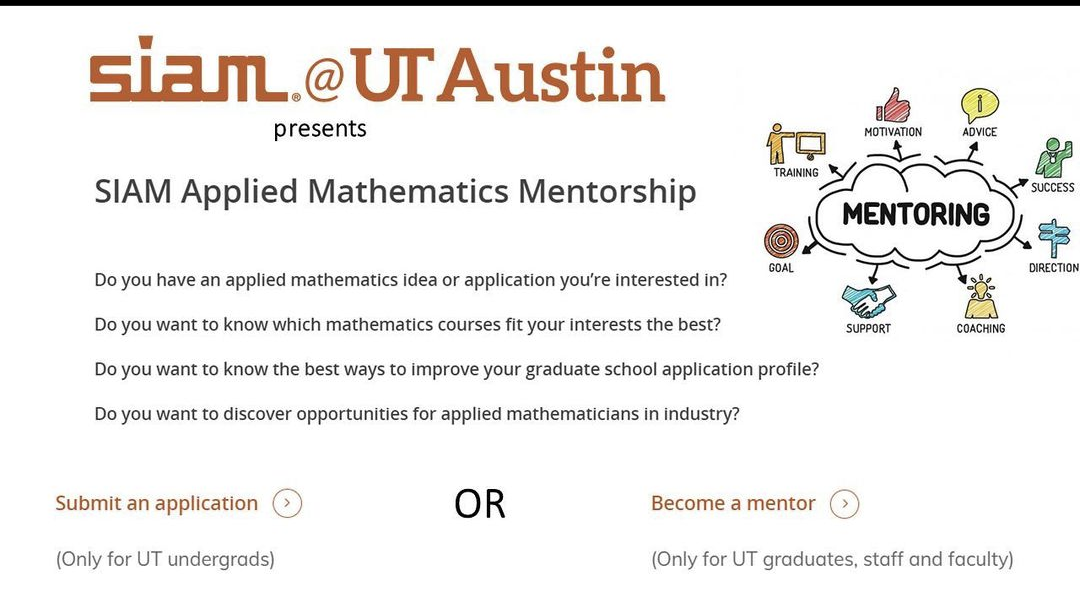 The Society of Industrial and Applied Mathematics Chapter at UT Austin is accepting applications to the Applied Math Mentorship Program for the 2022-23 academic year. We invite applications for both mentors and mentees.
The mentor application is open to graduate students, faculty, or staff at UT who would like to mentor an undergraduate student at UT and provide applied mathematics related career advice, inspiration, and more. Selected mentors will be contacted via email with information about a prospective mentee and will be given the opportunity to accept or decline the mentee. There are no fixed time commitments for this program; the only requirement is that mentors be professional and engaged with their mentees. Mentors will receive certificates from SIAM@UT, signed by our faculty advisor.
The mentee application is open to undergraduate students at UT who would like to be connected with an experienced applied mathematician. The mentoring relationship can help you with course and academic guidance, applying to graduate school, exploring an applied mathematics related idea, help finding opportunities in industry, and more.
The deadline for submitting the applications is October 25th, after which we will make mentor-mentee assignments and reach out to all applicants. After mentor-mentee matching, we will have an orientation on November 2nd followed by monthly (optional) meetings to discuss applied mathematics related ideas. At the end of the academic year, mentees who have completed a project with their mentors will have the opportunity to present their work.
We look forward to your applications. Feel free to share this program with anyone else who might be interested.
The link to the applications is provided below. Please reach out to siam.oden.utexas@gmail.com with any questions.